November 19, 1917 – October 12, 1986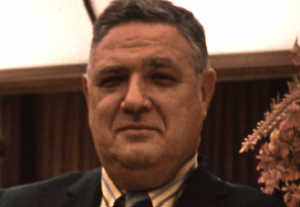 Peter Alexander was the fourth child born to Thomas and Zoe (Marinos) Alexander. His earliest involvement in his family's cinemas was at the Luzerne and Kingston Theatres. This occurred while he was a young boy just months before his father Thomas and uncle Louis Marinos Sr. sold out their theatre interests in the Paramount-Publix Corporation buyout of 1930.
He went to work in area restaurants and soda shoppes in Wilkes-Barre before enrolling in Pre-Med at the University of Pennsylvania. Upon graduation from Penn, he returned to the Wilkes-Barre area with the idea of continuing on to medical school. However, he was called into service during World War II and medical school was put on hold.
He was discharged with the rank of captain after the war had ended and was still considering a life in medicine. However after his father passed away in October of 1946, he chose to follow in his family's footsteps and enter the theatre business full time as well as form Alexander Brothers (Coffee) Inc sometime in the late 1940's with brothers Frank and Taki.  Until 1955, his time was spent at the Forty Fort Theatre.  That same year, along with his brothers Alec, Frank and Taki, the Luzerne Theatre was repurchased, and he shuttled between the Forty Fort and Luzerne.
In May of 1960, Peter married the former Mary Kekeris.
A son, Thomas C. was born in November of 1963.
During the summer of 1965, he assumed the position of President of the Forty Fort Theatre succeeding his brother Alec who had remained on in a smaller role while forming his own Alexander Overhead (Garage) Door Company.
Peter sold out his portion of the coffee business in the mid 60's and focused exclusively on the theatres. When the Luzerne Theatre was destroyed by fire in May of 1969, his time was spent at the Forty Fort Theatre.
Known for his gentle humor and warm smile, neighborhood kids referred to him as "Jolly Pete." His steel trap memory and extensive knowledge of the history of cinema astounded even his own brothers, who all grew up in the business.  "Ask Peter, he'll remember" was often heard in the theatre lobby.
Beginning in 1978, he took over operations at the Dallas Drive-In Theatre for a five year period while remaining on as President of the Forty Fort Theatre.  His health began to decline in the early 1980's and he did not renew his lease at the drive-in after 1983.
Peter had suffered from heart disease and diabetes, but still worked until the last weekend before his death in October of 1986. His youngest brother Taki succeeded him as president of the Forty Fort Theatre.