November 18, 1926 – August 25, 1991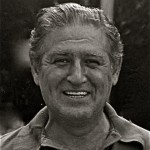 Taki (Thomas) Alexander was the fifth and last child born to Thomas and Zoe (Marinos) Alexander.
His involvement in his family's theatre business began at the Forty Fort Theatre.  He was eleven when the theatre opened in 1938, but began working there soon after as an usher right through his high school years.  He spent two years in the U.S. Army near the end of World War II and afterward serving in Japan, returning in 1946.
Once stateside, he briefly attended Wilkes College while continuing to work at the Forty Fort Theatre.
In the mid-1950's he studied with renowned jazz pianist John Mahegen in New York City. Taki became a fine jazz pianist himself, and was especially recognized for his "Boogie Woogie" and ballad styles.  He was also an accomplished drummer and trombonist. After returning from New York, he considered a trek westward to try his hand at show business – in particular comedy performing and writing as well as music. Instead he stayed in the Wyoming Valley to play jazz gigs regularly over the next twenty years.
He continued to remain with his brothers in the family's theatre business full time. He shuttled between the recently repurchased Luzerne Theatre as well as the Forty Fort Theatre, then out to jazz haunts until the early morning hours.
Taki also formed Alexander Brothers (Coffee) Inc in the late 1940's along with brothers Frank and Peter.  The company also sold canned tomato products. ABI closed after the 1972 Hurricane Agnes flood wiped out the company's storage warehouse.
Taki was largely known for his good humor and easy going personality and was a golfing member at Fox Hill Country Club in Exeter, PA.
After the death of his brother Peter in October of 1986, he became president of Forty Fort Theatres Inc. and operated the showplace with his two nephews until it closed on Leap Day, February 29, 1988.
Taki passed away on August 25, 1991 at the age of 64 from pancreatic cancer.