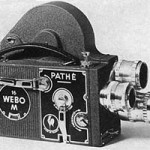 A SECRET MOST RESIDENTS DON'T KNOW: FORTY FORT'S DAYS AS A MOVIE MAKER'S PARADISE
One very little known documented fact about Forty Fort is its place in motion picture history. In the earliest days of silent cinema, the emerging movie moguls had their offices in Manhattan, but did most of their filming across the Hudson River in New Jersey. Studios were built there and many "westerns" were actually shot in Secaucus. But as filming became more expensive and logistics more unmanageable, the studio heads were looking for a place within a morning's drive from their swanky New York offices, that offered more scenic possibilities.
Enter Northeastern Pennsylvania, the Wyoming Valley and Forty Fort.
Here was a region just a couple of hours from the big city, which had beautiful mountains with lush forest areas, a wide and winding river and an expansive, flat valley perfect for filming.
The Black Diamond Studio was already in place on Slocum Street, and among the first to set up shop in the borough around 1913.  Silent one reel comedies were shot there. (It is very doubtful any of these epics have been saved). The filmmakers, who were thrilled with the area's natural beauty and resources, plus their ability to keep budgets low, partnered with Black Diamond Studios in the production of what were known then simply as Black Diamond Comedies. The Forty Fort Theatre would be built some twenty-five years later just two blocks south on the corner of Dilley Street and Wyoming Avenue.
The United States Motion Picture Corporation, and other smaller studios existed until the beginning of the first World War, and Forty Fort seemed to be at the center of a growing (albeit short-lived) movie industry. It soon became apparent that the long and harsh winters made production virtually impossible. That, along with the war and lack of capital, and the studio heads had no choice but to move to a location where the climate was more favorable. Of course that location was Southern California, and Hollywood was soon known as the movie center of the world.
But it's interesting to consider that for a brief instant, the Wyoming Valley, and more specifically Forty Fort, was an epicenter of major movie production.